I am very thankful I live in Mahahual on the Mexican Caribbean.  Every day and night I see and read what has been coming out of the USA lately, and I can say I am glad I am not there.
Yesterday was another mass shooting in the USA, and Donald Trump is marching his way towards the Republican candidate for President of the USA.  Every day I also see how people in the USA are frightened by terrorists and the threat of another attack.
I think I can honestly say, I am in the safest place in the world compared to the USA, for me.  We have no terrorists in Mahahual, no mass shootings, (I mean it is hard to murder 28 people in a movie theater here, after the first 8 or 9 you get tired of swinging a machete to kill people), and most of all no Donald Trump and his supporters and events.
First of all, I want to say I am ashamed and embarrassed of the way Trump has attacked Mexico and the people here.  Trump is playing on a lot of the racial bias and tension in the USA to try to get elected President.  He also is pandering to the hate groups like the KKK to try to get elected.
He has slandered the Mexican people by saying they all are murderers and rapists, and trying to get into the USA to do crimes.  Most Mexicans that I know that have lived and worked, (and they are a lot here in Mahahual), in the USA, went there to try to make a better living, and send money home to their families.
The Mexican people have been very good to me here in Mahahual, (a lot better than they treat Mexicans in my home state of South Carolina), and have accepted me.  They have a live and let live way of life here, and I like that.
The Mexican people are on the whole very friendly,. I get comments every day from tourists and cruise ship passengers telling me how nice and friendly all the local Mexicans are here.  They are also very polite and cordial, and seem to always have a good time.
I sit here some nights with doors and windows unlocked, and think I could not dare do this anymore in the USA.  I am not scared of someone breaking in and shooting me, or trying to rob me.  I ride my bike every where, even at night, and I never fear for my safety in Mahahual.  I feel very safe here, and I can't say that about the USA anymore.  In my hometown of Greenville, South Carolina there are shootings, murders, and car wrecks killing people every week, not here in Mahahual.  In fact it seems like no one ever dies here in Mahahual.
As far as terrorist attacks go, unless some terrorist smuggles a nuclear device aboard a cruise ship, I think we are very safe from terrorist attacks here.  Also the Mexican Navy and Marines are here in Mahahual. They patrol the beaches and the waters around Mahahual.  If you did not know the Marines are the ones that caught "El Chapo", and they can't be bought.  I have been told that the Marines are the most honest and trustworthy branch of the Mexican military.  I know a lot of the local Marines here, and they have a barracks right on the malecon, so if we are invaded they are close by.
So I guess what I am trying to say is, to me Mahahual is the safest and best place for me to be during all the crisis in the USA now.  Donald Trump and his supporters make me sick, and it disgusts me the kind of campaign he is carrying on now.  He is a loud mouth racist bully, and if he is elected, it would be the worst thing to happen to the USA.
To me Donald Trump has sunk to a new low, even for him, when he stopped the debate the other night to inform every one his penis size.  I think he also is a fascist and idolizes Adolf Hitler.  His views on torture and race disgust me, and the racist and crude he gets the more the USA laps it up.  They love him in my home state of South Carolina, and he won the primary there, easy.
The last several days I have been going around asking some of my Mexican friends, and people who have businesses on the malecon, their thoughts on Trump.  I have gotten "racist", "asshole", and several "Hitler" responses to name a few.  I also got some Mexican cuss words, that I did not quite understand, I just nodded my head yes.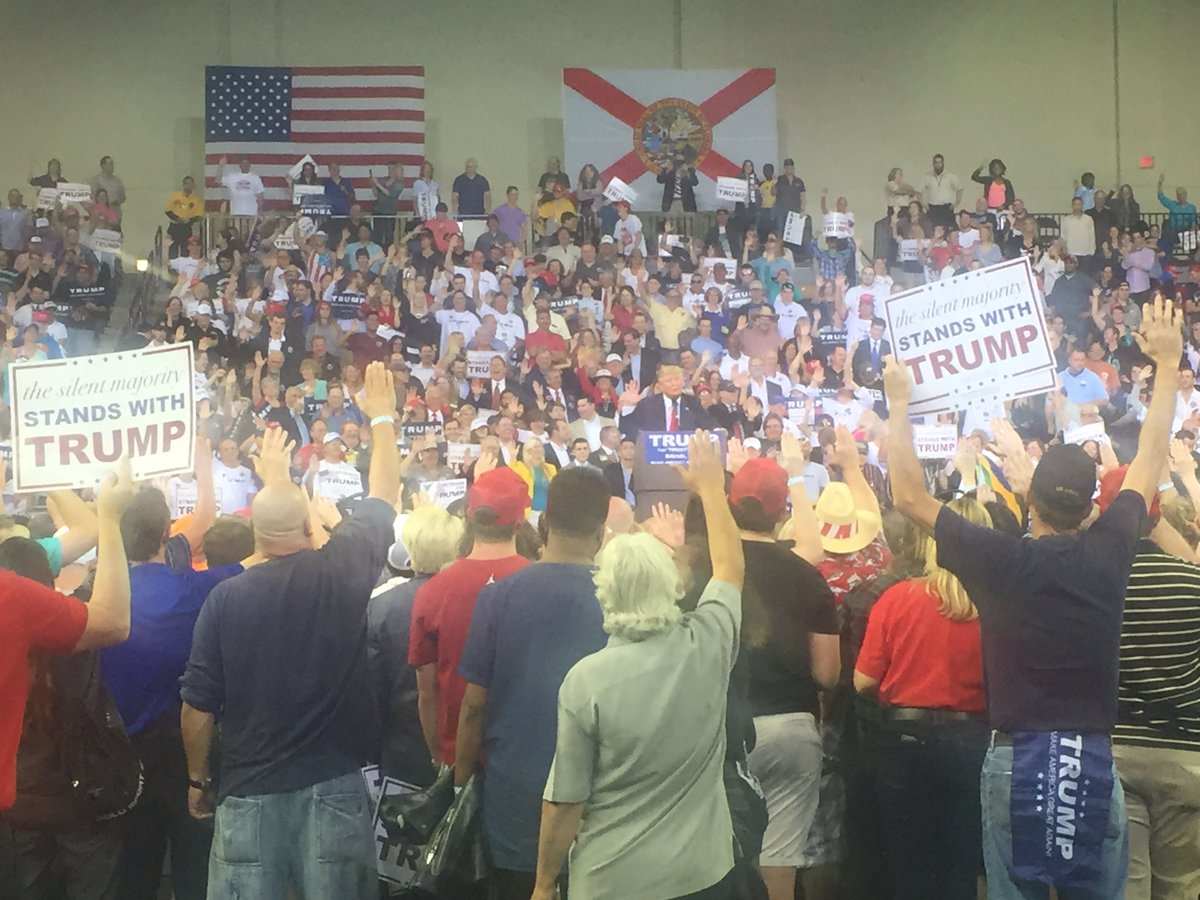 Trump supporters giving Trump the Hitler "Seig Heil" salute during rally.
I do know one thing though, if that racist and bigot Donald Trump is elected next President of the USA, Mahahual will fill up with "Gringos" overnight.
So if you are looking for a place to retire, live, or visit on the Mexican Caribbean, don't worry…. no terrorists, mass shootings, or Donald Trump here in Mahahual, and that is just fine with me.
Thanks for reading,
Stewart Rogers USA-South Carolina